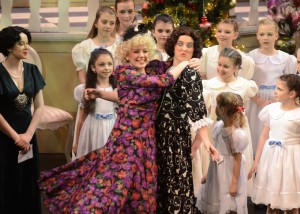 There is nothing like the thrill of performing on stage to a live audience, It's a healthy adrenalin rush of nerves, excitement and exhilaration! Masquerade Youth Productions (MYP) strives to provide that elation at each and every performance and develop stagecraft skills for the youth and young aspiring community. MYP provides the ultimate live theatre production experience in an inspiring, positive, fun, challenging and supportive environment.
Providing young performers acting, singing and dancing opportunities in a professional setting.
Fostering and mentoring stage craft/production skills for young people looking for a learning environment with access to state of the art equipment and resources.
Masquerade Youth Productions is extremely proud of the professional engagements of current performers and past performers who have pursued careers in theatre and film and television including commercials, Australian film and print/catalogue work. But equally proud of those that have used their performance skills for personal development in a range of diverse careers and everyday life skills.
The journey of the young performer from audition through rehearsal and then to stage, is a wondrous and joyous thing to witness. You see them grow their performance skills, their confidence, their social engagement, their sense of belonging and community. I love watching from the wings of the stage and I live and breathe every moment with them... It's these magical moments that I am privileged to be rewarded with the friendships of these performers and continue on to celebrate with them through their adult lives. I am grateful to be a part of it.

Artistic Director Carmen Powell